What are the benefits of dental treats for cats?
Though regular brushing and visits to your veterinarian are essential when it comes to caring for your cat's dental health, dental treats are a convenient addition to her routine.
These small biscuits can help prevent common dental issues that can result from poor oral hygiene, including:
Keep Plaque Buildup and Tartar Under Control
When plaque and tartar build up on teeth, this can lead to a number of dental issues, bleeding gums.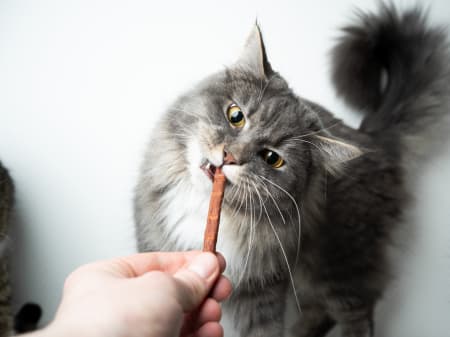 Eventually, periodontal disease can take hold and cause gum recession and tooth loss. Tartar control treats with enzymes to fight bacteria can go a long way to helping in the battle against plaque buildup and dental diseases.
Get Rid of Bad Breath
Bad breath is a common complaint among cat owners, and an indication that your cat's teeth need a thorough cleaning - or that your cat may have a gastrointestinal issue. Treats that have chlorophyll in them will keep your cat's breath fresh.
Bad breath is more than just a terrible smell - left untreated, the bacteria that causes it can get into the bloodstream and lead to heart disease. That's why you should see your veterinarian if your cat has chronic bad breath.
Promote Clean Teeth and Overall Well-Being
When cats chew, saliva production is stimulated and provides a natural defense against plaque and other dental bacteria. This helps keep bacteria from accumulating on their teeth, thus preventing all the problems that come with dental disease.
Best Dental Treats for Cats
Here are our favorite dental treats to recommend for cats:
Feline Greenies Dental Cat Treats (Oven-Roasted Chicken Flavor)
A favorite for many cat owners, you've got a few flavors to choose from when it comes to Feline Greenies dental treats.
Great for cleaning teeth and reducing tartar buildup already on your cat's teeth, these treats feature a natural formula with taurine, vitamins and minerals added to support nutrition. They also come in salmon, catnip and tuna flavors.
Emerald Pet Feline Dental Treats
If you're not sure which cat dental treat to start with because your kitty has a sensitive stomach or food allergy, Emerald Pet Feline Dental Treats may be a good place to start as they have limited ingredients - no soy, dairy, gluten or grain. Plus, they come in a variety of flavors and pack less than 2 calories per treat.
Prime Taste Treats Dental Choice (Chicken Flavor)
The natural ingredients combined with the chicken flavor in these treats will provide a yummy experience for your four-legged friend, along with freshening his breath and encouraging oral hygiene. Also comes in tuna flavor.
Of course, keep in mind that dental treats don't eliminate the need for professional cleanings. They are simply a way to help keep your cat's oral health in tip-top shape - in addition to brushing at home and visiting the vet for your regular dental checkups.
Is it time for your cat's annual dental checkup? Our Charlotte vets can check your pet's health to ensure his teeth are in good condition. Contact us today.